Elite Roofing, Installing Cedar Shake Roofs for Over 20 years
Cedar Shakes Roofing for a Northwest Vibe
Nothing could be more Northwest than northwest CCA Treated Cedar Shakes or shingles on your home. It is just the right thing to do. Of course, you need to be able to afford it. But does that mean spending on a wood roof is being indulgent? Absolutely not.While wood roofs cost more, they not only look better, but they last longer. A good quality cedar shake roof taken care of can last 30 or 40 years, far longer than any composite roof. You get a more prestigous home with a great overall cost of ownership. And you can feel good that you are putting on a roof that is eco-friendly and uses a renewal resource-wood. What could be better!
Shingles or Shakes, Sawn or Split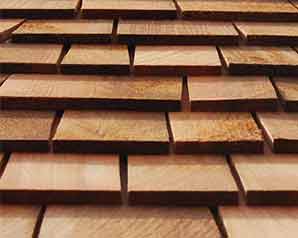 Wood roofing is available in shakes or shingles. Wood shingles are sawn from a single block of cedar or yellow pine. Shakes are split from a block of wood using a mallet and froe. Shingles look more refined and 'Victorian'. Shakes look more rustic and cabin-like for the Northwest look.
Elite Roofing & Remodel is the only Certified Roofing Contractor with the Cedar Shake & Shingle Bureau in the Northwest.
Wood Shingle Quality and Thickness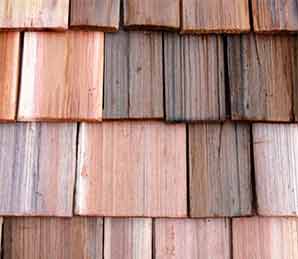 Shakes and shingle come in different lengths and thicknesses. They are generally 16″, 18″ or 24″ in length. Thicknesses range from 1/2″ to 1″ thick. Thicker shingles/shakes will provide longer roof life.
The best wood is cut from the heartwood of the tree, is 100% edge grain, and has no defects (knots). This is typically referred to as Number 1 Grade. This is what you want on your roof.
Pressure Treated and Fire Proofed
Today's cedar shakes roof lasts even longer and is as fire resistant as asphalt comp shingles. We provide a selection of wood roofing that includes pressure impregnation of the wood with a wood preservative that reduces fungal decay and a fire retardant that makes the roof Class A fire rated.
Wood roofs fail due to fungal decay of the wood. Fungus does not grow on dry wood. It grows on water-soaked wood that remains water logged. Consider how long drift wood lasts! A wood roof that is kept clean is much less subject to fungal rot and should last a very long time. Add a fungal retardant and your roof is even further protected. Without fungal decay, your roof's life is very long.